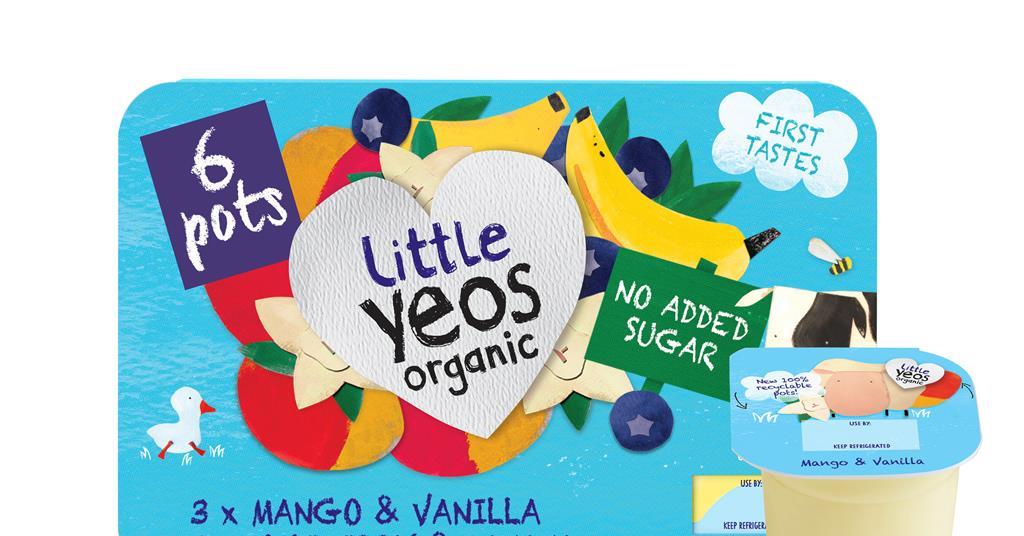 Yeo Valley Organic has expanded its ranges of children's and adult yogurts.
A new no-sugar-added multipack variant of its Little Yeos yogurt line was designed for weaning babies and toddlers, combining organic British milk and real fruit puree, the brand said.
As well as being free of added sugar, SKU promises to be free of artificial sweeteners and flavors, the only sugars that are supposed to come naturally from milk and fruit.
The NPD will contain two flavor combinations – Mango & Vanilla and Blueberry & Banana – and will arrive in Tesco stores from Monday July 5 (rsp: £ 1.50 / 6x42g).
Little Yeos No Added Sugar was developed specifically for the needs of babies and toddlers, and means you can be sure to give [your] toddler food the right way from the start, "said Heidi Narvo, Little Yeos Brand Chef.
"By mixing our thick and creamy organic yogurt with real fruit puree, we have created a delicious new recipe with no added sugar. This allows the true flavors of the fruit to kick in to develop a healthy taste palate for your child while having all the goodness of organic whole dairy products in a perfect little jar.
Yeo Valley has significantly expanded its Little Yeos line over the past 12 months. The new yogurt joins two variants of yogurt sachets, which were launched last September.
At the same time, the dairy brand's adult offer has also grown, with the announcement of a new format and a new fragrance for its kefir range.
Currently only available in jars, starting next month the products will also be offered in multi-portion packs for on-the-go snacks or in the fridge.
Variants should include strawberry, mango and passion fruit and the new raspberry flavor (rsp: £ 2/4 x 100g). All three will launch in Tesco from next Monday (July 5) and Ocado in July, before heading to Sainsbury's in September. Waitrose will be stocking the raspberry variant starting August 4.